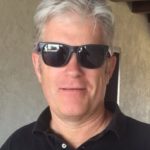 I am a fine art photographer based in Tucson, Arizona. My work focuses primarily on the natural world, human creations, and abstracts. I record these timeless spaces using DSLR equipment and large format 4×5 and 5×7 cameras.
I have always been a highly visual person. Photography allows me to express emotions sensed from the interplay of light, color, textures, and form created through the juxtaposition and counterpoint of structural elements in the visual world. I find strong emotional connections to subject matter ranging from the largest scales showing the bones of the earth to the geometric details, patterns, and colors found in small subjects like flowers. At these two extremes of scale are realized both the organic and the inorganic, through common threads of light, color, texture, and form. From visualization through execution, I strive for a technically flawless presentation that preserves each moment.
I have been engaged in photography, particularly fine art photography, for several decades. I studied fine art and large format photography under two masters who were themselves students of, and then colleagues of Ansel Adams: Howard Bond and Hosain Mosavat.
My images are available as archival fine prints that are mounted, signed, matted, and framed. Most prints are available in a limited edition, typically 100 prints. Current offerings are shown in the Galleries. These images are printed on the highest quality fine art paper using archival pigment inks, then archivally dry-mounted and matted using pH-buffered 100% cotton museum board.
All images and text on this website are protected by international copyright and may not be copied, shared, or otherwise duplicated without my express written consent.
Michael Newberry